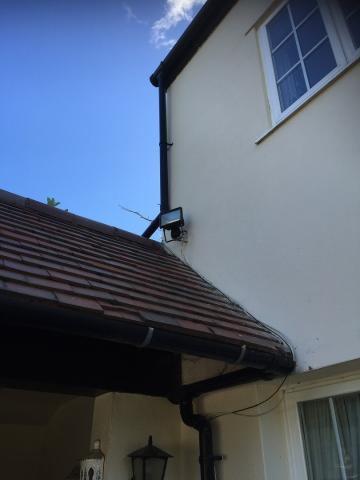 It has been a while since I have written a Blog, as some of you may know we have updated our website so we have been busy with that, let me know your thoughts by the way.
This week I wanted to talk about outdoor lighting as it is this time of year that we have many customers calling wishing to have their security lights replaced or checked for functionality, or simply upgrade their outdoor lights.
Outdoor lighting can improve the aesthetics of your home but it is also an integral part of an effective home security system. Security lighting allows for physical detection, facial recognition and minimises hiding spots which increases your sense of safety.
Types of Outdoor and Security Lighting
The best types of security lights feature waterproof designs that are capable of withstanding the elements, such as humidity, rain, and even snow.
Some of the different types of security lights that are available for you to choose from include:
Floodlights – these security lights distribute a wide cone of light and are ideal for illuminating large spaces. 
Path lighting – ideal for safely illuminating frequently used paths and walkways, as well as for illuminating trees and other architectural elements around your home.
Surface mounted lights – ideal for general, accent, and decorative lighting on your home exterior, such as walls.
Post lighting – these lights provide ambiance lighting and are suitable for lighting driveways in order to welcome your guests.
Where Should You Place Security Lights?
Evaluate your home as your neighbourhood develops and grows to determine if any additional safety and security measures are required. You might want to consider the following when assessing your home and neighbourhood:
Locate desirable or expensive items on the property, such as ornaments, statues, and vehicles.
Examine the perimeter of your home at different times of the day in order to identify potential safety and/or security hazards. Look for dark areas or deep shadows around the home, garage, and yard that could serve as potential hiding spots.
If you would like to know more or simply require a quotation for your outdoor lighting, contact Mark on 01322 686 073, I will be happy to help.