Are You Spending Un-Necessarily on Bulbs?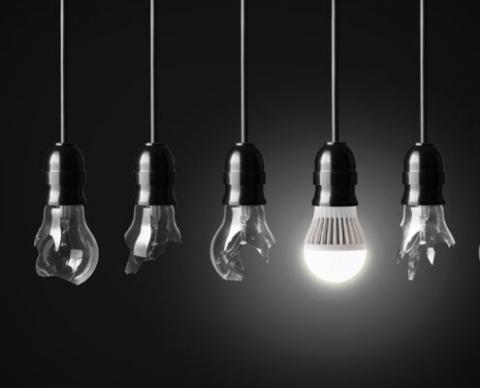 Welcome to my blog, this week I would like to talk about the benefits of LED Lighting and how simple it is to save money and replace your lights for LED.
If you have a home with lots of spotlights you will know how frequently the halogen lamps can blow, normally leaving 2 options:
1 – keep changing them and have a large stock of spares.
2 – leave them and then get frustrated as the number increases.
Well thankfully LED lamps often can be direct replacements for the original bulb, no changing of light fittings required.
Recently at a property I came across a light switch that had been installed in 1935 and was still in use today! Unfortunately, the wiring was equally as old and required replacing but it shows how good quality items installed properly can go on for a very long time.
For quite some time now I have been having discussions with customers about the benefits of LED lighting, the conversations usually, have themes like, LEDs are for toys you don't get enough light from them or how can you justify telling me to pay £20.00 for a lamp (bulb) when I can buy a pack of 5 from my local DIY chain for £10.00.
I hope that the information in this short article will clear up some of the confusion / myths about LED lighting, don't get me wrong in some cases it is not the right answer, but don't let misinformation put you off if it is something that you were considering.
LED lamps will last and save you money LED lamps use a fraction of the electricity required by standard halogen GU10 lamps, yet can give out just as much light. LED lamps from quality manufacturers will have an extremely long lumen maintenance period (life) of up to 50,000 hours. Over its lifetime, just one of these LED lamps replaces approximately 25 standard GU10 halogen spotlights, whilst saving as much as 2,450kWh of electricity - that's over £250 at a cost of 10.5p per kWh!
The fact is that LED modules which are more efficient and capable of producing high lumen outputs are expensive to manufacture, especially when they are still being produced in comparatively low volumes. As a result, you will usually find that the higher the lumen output, the more expensive the LED lamp will be
.
But in reality it's not so bad. A 520 lumen 7w LED lamp from a quality manufacturer should be good for at least 25,000 hours and cost about £20 to run during that time. It should easily be able to replace the 40w lightbulb which was costing about £5.60 every 1,000 hours, which is £140 over 25,000 hours.
Looking at it the other way, even if the LED lamp had a purchase price of £30 (that would be expensive), it would still only cost about £2 to run each 1,000 hours compared to £5.60 for the traditional bulb. Either way, you win by switching to LED because the cost of electricity isn't likely to get any cheaper.
If you would like to replace your bulbs for LEDs now or in the future and want more advice just give me a call, I would be happy to help.