Tower Bridge Chooses LED Lighting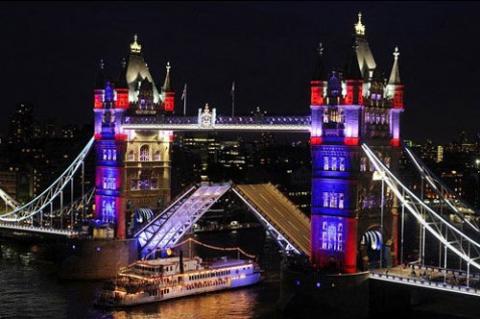 After a major refurbishment London's iconic Tower Bridge will be clearly visible at night for the first time in its 118-year history.
The new lighting scheme was specifically developed to enhance the aesthetics of the bridge and ensure an energy efficient lighting scheme was in place. More than 2 km of LED lighting has been installed on the stone and metal work on the bridge, illuminating the structure at night. Supplied in 2.44 m lengths, it takes the form of a flexible LED light engine that can be moulded on site to fit the shape of architectural features. Controls have also been installed enabling the mood of the lighting to be changed to suit different occasions.
Tower Bridge has also been installed with 90W LED Floodlights, together with other lamps and fixtures as direct replacements for the old and inefficient system. Boris Johnson, Mayor of London, 2012, said of the project: "This city is going to be watched by the world and this grand old lady of London, one of our best loved landmarks, is now set to play a sparkling role in the celebrations.
Interesting facts about the Tower Bridge relamping
Tower Bridge was last relamped with spotlights 25 years ago.
The once-in-a-generation lighting makeover of Tower Bridge will reduce energy consumption by 40%.
The City of London Corporation owns Tower Bridge and commissioned global lighting experts Citelum to design the scheme, whose other work includes Notre Dame and the Eiffel Tower.
The project comes at no cost to the taxpayer. GLA and Mayor Boris Johnson helped to coordinate ensuring it contributes to the London 2012 Olympics as well as the Queens Jubilee celebrations.
Bridge owner, the City of London Corporation contributed £400,000, towards the works from its ancient Bridge House Estate fund that pays for the five City bridges.
Features such as the gothic turrets, windows, the central aerial walkway and the suspension chains have been picked out in colours, whose shades and intensity are for the first time, variable.
As Tower Bridge is a listed bridge, the modern LED equipment is less intrusive and can be installed more sympathetically.
8,270 meters of new electrical cable has been installed, along with 1,750 metres of control cabling for the LED projectors.
Tetra Contour has been installed on the bridge and is comprised of a flexible LED light engine and a rigid, optically diffused light guide that can be heat formed to fit a variety of architectural needs.
It is going to look wonderful!
If you would like energy or cost saving advice, or even simply to know the benefits of LED, contact Mark on 01322 686073 – Your Local Electrician will be happy to help!